The Most Efficient Move In / Move Out Cleaning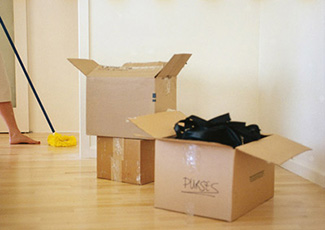 Moving? We can help!
At Happy Maids, we also provide move-in and move-out packing and cleaning services for Chicago area clients. We know that moving can be a stressful and busy time, and we are here to alleviate any anxiety.
Packing / Unpacking Services
Don't trust the movers to pack everything properly? Don't have the time? We can help you pack up your belongings neatly and safely, or help you unpack and set up in your new home or office. Your possessions are just as valuable to us as they are to you.
---

Move In / Move Out Cleaning Services
We provide cleaning services for both moving in and moving out. Not happy with how your new apartment or house was left by the previous resident? Call us for our move in cleaning service. We will get your new place of residence clean and fully ready for move-in day.
We will also take care of your previous residence and get it ready for somebody else to move in with our move out cleaning service. If you are renting, we will do all we can to ensure that you get your deposit back. Remember, we even offer a 100% satisfaction guarantee, and will re-clean your apartment or house within 24 hours if you are not happy with the results.
Move-In, Move-Out Cleaning Specifications
Are you hoping for a stress free move?
Please request a FREE quote or give us a call today at (847) 382-0082
We look forward to sharing with you our move-in and move-out service options for Chicago area clients.