Why Choose Us For Your House Cleaning Services?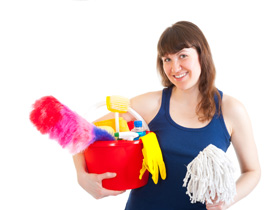 Choose Happy Maids for a better clean!
Happy Maids has been servicing the northwest Chicago and northwest suburbs for more than 30 years. We're the family-owned cleaning company that was started in 1985 and incorporated in 1992.
If you are looking for a quality house cleaning services, then you have come to the right place. We are have fair prices and offer free phone and in-home estimates, and have the happiest maids in Chicago's northwest suburbs.
All of our crews are English speaking and they are properly and constantly trained to do their job safely, effectively and efficiently. Our employees are detail-oriented and friendly. You can trust us; we'll clean your home your way and service comes with our 100% customer satisfaction guarantee.
You can choose to have us come for a one-time cleaning, or you can schedule us to come every week, every other week or every month. We even offer weekend hours if your weeks are too busy!
Looking for a more thorough cleaning of your home?
Try Happy Maids for an upgrade for the ultimate house cleaning services. Without a doubt, you will find that week offer top-quality professional maids service for your home. We will make you smile, we promise – not just once, but every time we clean your home!
Give us a call at (847) 379-5088
---

BBB's mission is to be the leader in advancing marketplace trust. BBB accomplishes this mission by:
• Creating a community of trustworthy businesses
• Setting standards for marketplace trust
• Encouraging and supporting best practices
• Celebrating marketplace role models, and;
• Denouncing substandard marketplace behavior
---

Fighting cancer is difficult enough, but living with it is even tougher and that's where Cleaning For A Reason steps in. As a nonprofit serving the entire United States and Canada, we partner with maid services to offer professional house cleanings to help women undergoing treatment for cancer, any type of cancer. To date, we have helped more than 9,000 women with cancer with more than $1 million in donated cleanings. We'd like to tell you more! Join our Newsletter List and receive more exciting news and updates about our foundation.